Event Dome Rentals Tampa / Orlando
Soflo Studio is your one stop shop for all your event dome needs, we have geodesic domes as well as projection domes available everywhere in Tampa/Orlando, Florida.
Contact Us
Event Dome Rentals Tampa / Orlando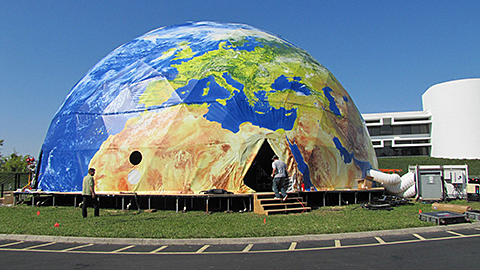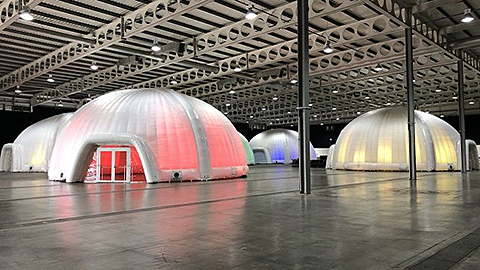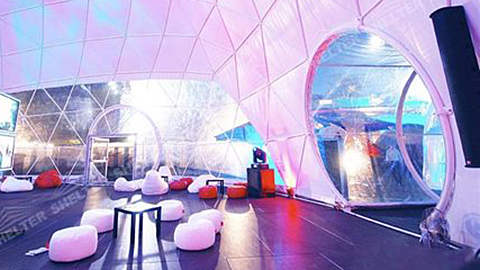 Do you want to organize your event in a unique and innovative structure? Event Dome Rentals is the ideal solution for you. A dome tent is totally innovative and suitable for advertising actions. Being completely round, it draws a lot of attention. If you plan a large event or an exclusive or elegant celebration, our domes are the ideal answer to your needs as they are a powerful marketing tool.
They are used mainly as information points, discotheques, marketing campaigns, fair stands, and even playgrounds. The Dome has a variety of uses. It is ideal for marketing. Your cover can be digitally printed, thus being able to personalize it in its entirety. They are used to make projections both inside the dome and outside, thus attracting the greatest possible attention from possible spectators. They are also used for 360-degree projections, which are mainly used to create virtual experiences.
The dome tents can be installed on any terrain. Its anchoring can be both in the grass and in concrete without any problems. The dome structure is relatively easy to assemble and transport. With few profiles, you can cover large surfaces. Event Dome Rentals is the best tent dome rental service in Tampa or Orlando, with the perfect domes for your event. We are also the number one projection dome rental in the region. Contact us for the best Geodesic Event dome rentals.
Event Dome Rentals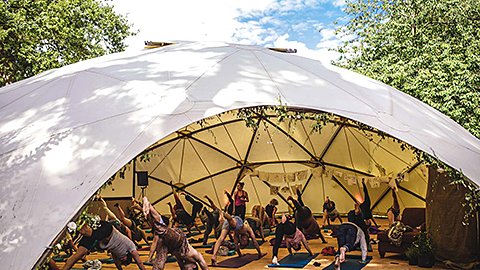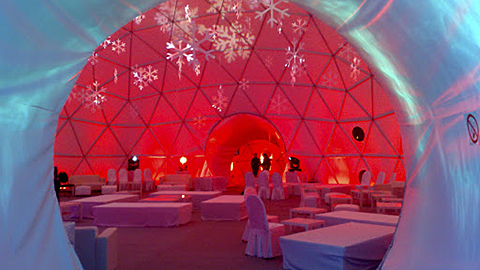 Event Dome Rentals offers its clients a complete Geodesic Event Dome rentals service for national and international events. We will work with you to understand your goals and objectives and develop a comprehensive program of engaging, interactive, and effective events.
Hand in hand with every element of geodesic dome planning and design, video, audio and visual projection, production management, and logistics. Soflo Studio' Geodesic Domes have completed successful events in Tampa and Orlando, Florida. If you are from the region, you can choose us as your preferred tent dome rental service. We provide complete logistics solutions, installation, and staffing for events within the areas stated.
Projection Dome Rentals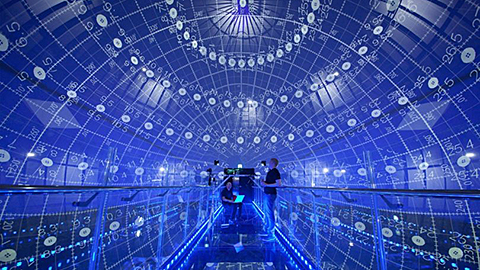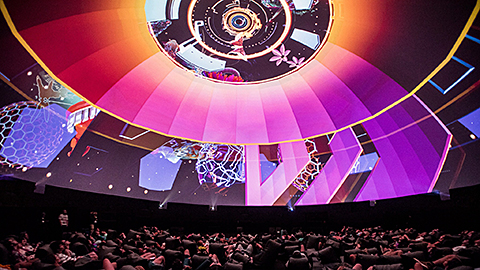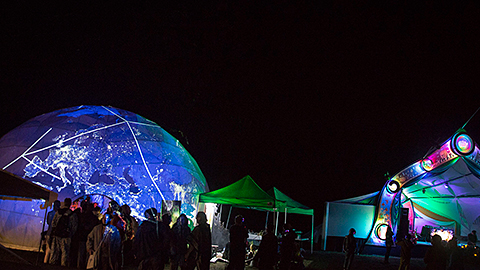 We also offer projection dome rental. Soflo Studio has the technical material necessary to carry out 360º projections and elaborate content for them. The result in the domes is spectacular, giving the event added value. Just add to the normal structure of a dome a projection liner with a negative pressure system that makes the screen adhere to the dome-like a second skin.
This is vital in creating a different mood in the dome and can also be useful for branding or marketing purposes. If the intention is to project inside the Dome, we use a second canvas (Video Liner) that covers the entire dome, which is held by depressurization. If you are looking for the best projection dome rental in Tampa or Orlando, please contact us.
Custom Dome Branding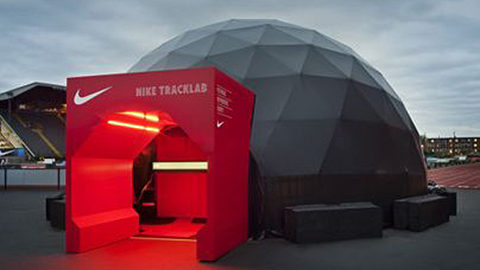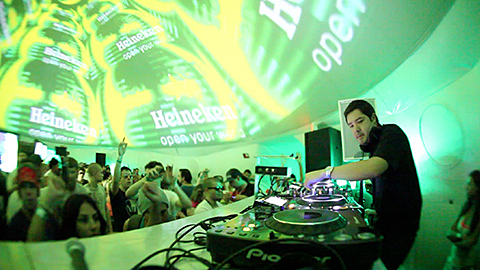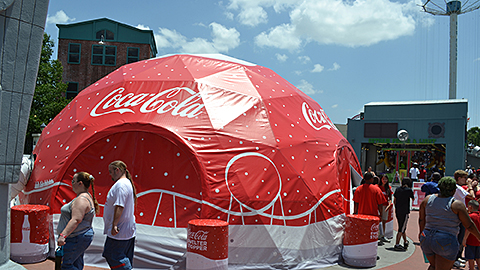 We have many metal structures in stock, and we travel anywhere in Tampa or Orlando, Florida to create your custom event with the best technicians and materials. We offer the installation of the structure, the design of the event, furniture, sound, lighting, etc. Our experts will do custom branding on your dome and make the image of your company or business visible to everyone. This is a great way to market yourself.
Apart from relaying the image of your company through our projection dome rental package, custom branding is another ideal option, especially for a day event. Thanks also to the customization possibilities offered by Event Dome Rentals on colors, logos, and sizes, geodesic domes are a great way to draw attention to oneself. Reach out to us for the best Geodesic Event dome rentals customized for your event in Tampa or Orlando, Florida.
Event Prop Fabrication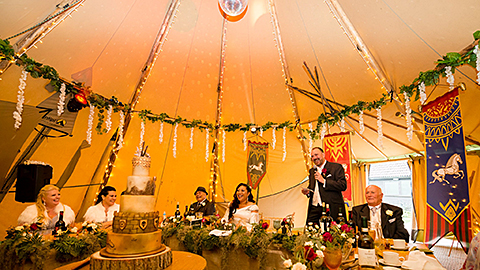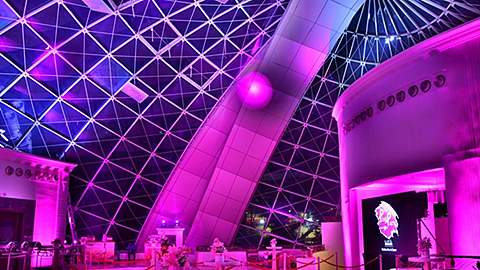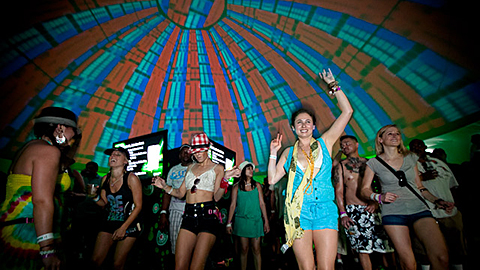 Are you out of fresh ideas for your event's setup? Do you have lots of ideas but no strong concept? Worry not because Soflo Studio can help you out with the best props for your event in South Florida. We create the best props or designs to match the theme of your event. If you want us to fabricate your event props as part of your tent dome rental package, we can do it at an affordable rate.
Dome Sizes for Any Event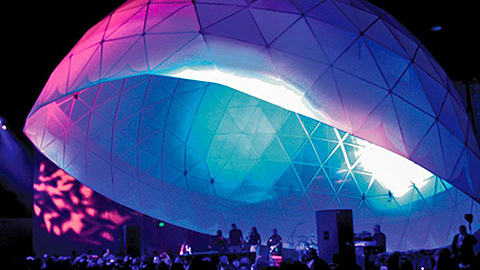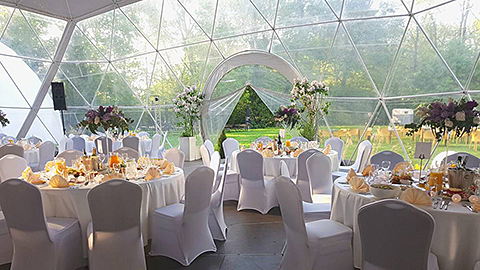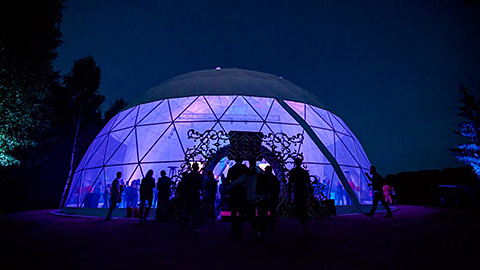 We offer this type of tent for sale from 6.5m in diameter (29m2) to 30m in diameter (706m2), thus adapting to the client's needs. Several domes can be joined together by corridors. We also offer tent dome rental in various sizes. The different sizes in our collections can accommodate the number of guests you want for your event in South Florida.
We have all the sizes you need for your tent dome rental needs. The possibility of connecting several geodesic domes makes these structures also very functional for outdoor events, parties, fairs, and even promotional stands.
Why Choose Us
We provide you with the best Geodesic Event dome rentals at affordable prices. You don't have to worry about landing the right size of geodesic domes for your event because we have a variety in our collection.
We can build your ad hoc structure, with white or colored fabric, with a transparent window in the front part, or completely transparent. One of the advantages of the geodesic dome and the great local robustness is the load capacity compared to the size and weight of the materials.
Structurally it is much stronger than it would seem to look at the beams that make it up. This gives it a particular lightness and the possibility of building large covered spaces without resorting to columns or other types of massive internal supports. The geodesic dome is practically able to stand on its own and is defined as a self-supporting structure. The dome is also aerodynamic.
We rent out our domes at affordable rates, and these prices may vary depending on the size and materials used on your dome. Event Domes Rentals has also partnered with several logistics companies in Tampa and Orlando to ensure your dome is delivered to your event.
Certifications accompany all our geodesic domes by the law. The completely fireproof sheets are equipped with circular section vents that allow the passage of the pipes for heating and cooling the domes, especially in South Florida
The rental offer is completed by supplying a series of accessories: heaters and coolers, entrance doors, ground fixing brackets, flooring, and lighting. Our installers will professionally follow the assembly of the structures, giving you all the necessary assistance for the success of your event in Florida.