Led Wall Rentals
Why Rent a Mobile LED Display for Your Event?
Mobile LED displays are a great way to attract more customers at events. They are portable and have an easy-to-use interface, making them great for events of all sizes. In addition, we at Soflo provide assistance with setting up, operating, and dismantling the unit. The cost of hiring a large mobile LED screen can be easily recouped by the advertising revenue and customer engagement that it can generate.
The market for mobile LED displays is expected to grow rapidly in the coming years, with a high demand in the healthcare sector. These devices are affordable, compact, light, flexible, and offer improved color and flicker free images. Furthermore, they have a long life span and are environment friendly. This growth will continue as technological advancements to improve the quality of mobile LED displays.
The brightness and resolution of an LED display can affect how long it lasts. If properly maintained, LED displays can last more than ten years. However, the actual lifespan of a mobile display depends on several factors, including the environment around it and the type of use it receives. Generally, the brighter the image, the longer the display will last.
When Soflo purchases a mobile LED display, we are careful to look into the features and benefits of each product. A mobile screen can be easier to operate than a fixed screen, and it's more likely to be able to withstand the elements, like rain and snow. Its IP rating and glare-resistance are also important features.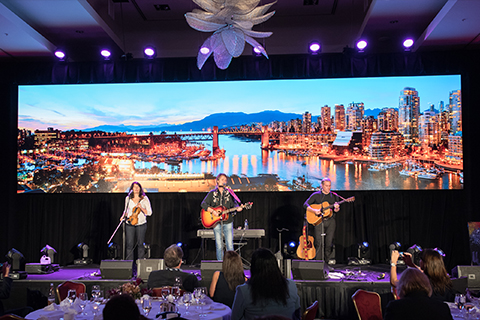 Click here to rent now
Starting @ $75 Per LED Panel – Have you been looking for an LED screen rental but don't have enough space? Then look in our Indoor LED Wall Rentals: delivering quality video to any audience without the need to worry about the structure of your venue or NFT display ideas. We offer video walls you can easily suspend to wow your audience.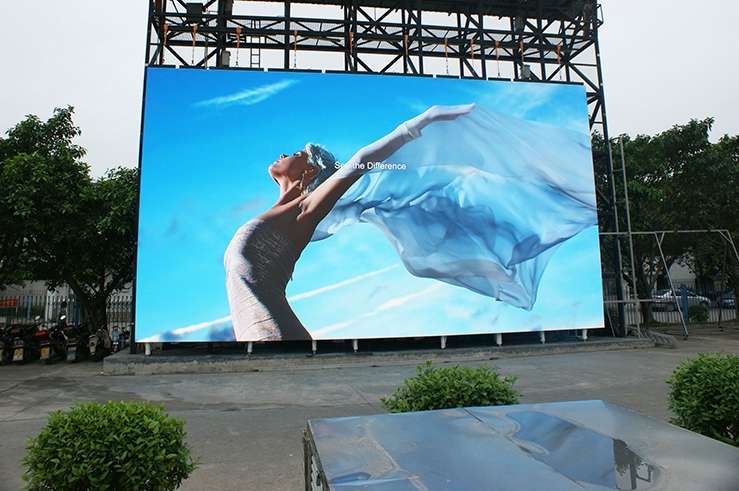 Click here to rent now
Starting @ $175 Per Outdoor LED Panel – If you need to place an LED video display in odd places, set up a display outdoors, or want the flexibility of multiple displays, then consider our portable LED screen rental for your NFT display. Whether you need an indoor LED screen rental or an outdoor LED Video wall rentals, these screens pull double duty.
Renting an LED Wall for your event has never been easier!
Our staff handle all inquiries rapidly, meaning you can get exactly the kind of LED video wall rental you need faster than ever before. Forget about using projectors, placing them in the correct location, and setting up backdrops or painting walls. LED walls set up easily and don't require specially constructed spaces or walls painted for projection used in AV production. Plus, you can forget about worrying whether or not your stages are set up correctly to avoid blocking projector lights!
Show off high quality video footage in any kind of lighting – LED video wall rentals are brighter than both projectors and LCD walls, ensuring a clear viewing experience from any angle, indoors or out. If the wall fits, the wall sits, and that's all you need to begin running whatever video content you need shown for your AV production needs. Dazzle anyone that lays their eyes on our video walls with rich colors and true black.
Our LED video walls for rent offer high-resolution displays and an affordable solution to long-distance viewing compared to LCD screens, which do not offer similar long-distance performance as part of our AV production service. LED screen rentals don't require you to purchase differently sized backdrops or paint entire walls with special paint the same way that projectors do, meaning you can move our screens wherever they'll fit for AV Production. So LED displays are perfect to function as outdoor NFT displays.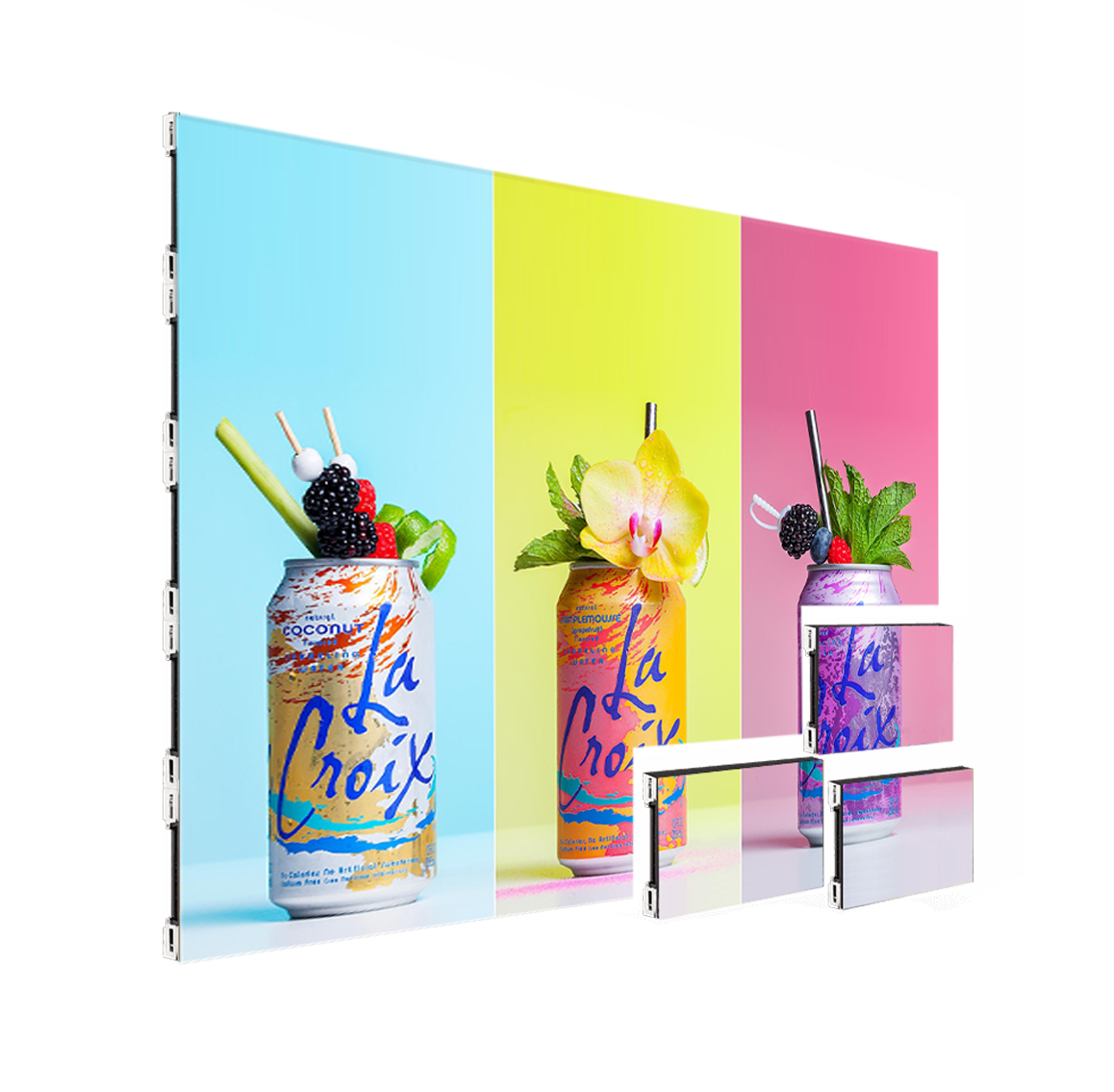 If you're looking for an LED screen rental, look no further for an affordable video display solution. If you're still not convinced, look at these reasons why LED wall display is the industry standard solution for video display needs:
LED Video Walls Last Longer
Unlike LCD screens, which degrade over time and lose quality, vibrance and consistency of color, LED screens last nearly double the amount of time as an LCD display.

LED displays last, on average, two or three times longer than projectors will last and don't require bulb replacements, cutting down additional costs from purchasing new bulbs.
LED Screen Rentals Require Less Upkeep
LED screen rentals are extremely simple to use and repair, having fewer parts than projectors and more widely available parts than older LCD displays do.

When you rent a video wall, you only need to keep their surface clean, while projectors have several locations that must be kept clean to ensure proper function.
What are people saying about SofloStudio's LED Video Walls?
SoFlo Studio did a fantastic job of helping me decide what kind of stage sized LED Video wall rentals I'd need for my performance and saved me the headache of moving performers around to account for a projector I was considering using. I was really happy with how the video footage turned out, because even with all the spotlights and lasers going, I could still see the screen perfectly behind me and the performers. Seeing as I had to put a lot of the stage together myself, their low prices really helped me out.
Jimmy Vargas
Videographer
I was worried about how I was going to show off the video footage I prepared for a wedding since the venue the bride chose was so wide, but after looking up LED video walls for rent, SoFlo's flying wall displays looked like the perfect fit. I could get a pair of screens set up that let all the guests watch without having to get up and move around. Definitely helped me out, and I'm super happy that it didn't break the bank because I was getting close to maxing out the budget by that point. Thanks so much, you guys saved me a lot of grief.
Mike Henry
Producer
Modular LED Display System Rental
Modular LED displays deliver a powerful visual experience and are ideal for advertising in stores and on transportation signs. They can be used outdoors and are water-resistant to stand up to harsh conditions. They also provide a bio-directional signal to draw the attention of viewers from different directions. Moreover, their pixel pitch range allows for different display sizes to cater to the needs of various clients.
Modular LED display systems consist of a frame comprising triangular-shaped support members and a plurality of LED display modules. Each module comprises a generally planar front face, an array of LEDs, and inwardly tapered vertical sidewalls and horizontal upper and lower trapezoidal faces. The LED modules are fastened to each other using fasteners on their inwardly tapering walls.
LED modular displays are popular in many industries. For example, they are
used in airports, and railways, retail stores, media & advertising, sports & entertainment, and control rooms. In addition, they can be used at outdoor events to advertise events and promote products. These LED displays can provide up to 7000 nits of brightness. LED modular display systems are composed of LED modules 30. Each module has a generally planar front display face 32, LED array, and inwardly tapering vertical sidewalls. The vertical sidewalls of LED modules have an angle chosen to provide a flush fit against the vertical support sections.
How much power does an LED wall rental need?
This depends on how big a screen you're getting, but our biggest screen (P3.91 32.8′ x 16.4′) requires 14 20 AMP circuits and draws 240 Watts.
Can I use these as an NFT Display?
Yes, absolutely – the NFT's can be set up just as well as any other form of media.
Should I install an LED display rental myself or have SoFlo do it?
Unless you have the tools and experience installing these kinds of displays, you're going to end up saving time and money in the long run by having professionals install your display.
What are the maximum viewing angles of the screens?
Horizontal 140°/Vertical 140°
What sizes do Indoor & Outdoor LED display rentals come in?
| Indoor P3.91 500 x 500mm Panels (Sizes) | Outdoor P5 960 x 960mm Panels (Sizes) |
| --- | --- |
| 9.84' x 6.56' (24) Panels | 9.84' x 6.56' (12) Panels |
| 13.1' x 8.2' (40) Panels | 13.1' x 8.2' (20) Panels |
| 16.4 x 8.2' (50) Panels | 16.4 x 8.2' (25) Panels |
| 19.69' x 8.2' (60) Panels | 19.69' x 8.2' (30) Panels |
| 22.97' x 8.2' (70) Panels | 22.97' x 8.2' (35) Panels |
| 26.25' x 8.2' (80) Panels | 26.25' x 8.2' (40) Panels |
| 29.53' x 8.2' (90) Panels | 29.53' x 8.2' (45) Panels |
| 32.81' x 8.2' (100) Panels | 29.53' x 8.2' (50) Panels |
Who do I contact rent a video wall for corporate events?
What is the selection of available indoor LED Video wall rentals?
These are the currently available LED display sizes for rent:
9.8′ x 6.6′
13.1′ x 6.6′
13.1′ x 9.8′
16.4′ x 9.8′
19.7′ x 9.8′
26.2′ x 9.8′
32.8′ x 16.4′
What is the selection of available outdoor Jumbotron rental?
These are the currently available screens we have for rent:
9.8′ x 6.6′
13.1′ x 6.6′
13.1′ x 9.8′
16.4′ x 9.8′
19.7′ x 9.8′
26.2′ x 9.8′
32.8′ x 16.4′
Is this similar to a Jumbotron rental?
These LED walls ARE Jumbotrons, but know that they're not made specifically for spending a lot of time outside, so they're good for weekend long events, but not much longer.
Renting Modular Displays
Modular Displays are versatile, customizable, and easy to store and ship. The modular components of these displays enable you to customize the message and graphics of your display without having to replace the entire display. This allows you to attract more qualified prospects with tailored messages. You can also re-use modular displays at different venues. These modular exhibits are ideal for trade shows because of their adaptability. They offer the most flexibility and can be customized to fit the size of your booth or trade show area. They can also be customized with multimedia, LED lights, banners, podiums, and more. They're also a great choice for growing companies.
Modular displays also offer a lower-cost custom solution that allows you to create an exclusive display with customized branding options. Modular kits also simplify the exhibit design process by giving you the ability to add additional accessories and branding elements. Plus, they feature top-of-the- line graphics and state-of-the-art design equipment. They're perfect for trade shows, events, and retail spaces. Modular exhibits have many benefits. First, they look professional. They are easy to assemble and disassemble. They're also portable. This allows you to take them with you from one event to another.