Robotic Camera Arm Rental in Miami
Bring your production to the next level with the unparalleled precision & versatility of a robotic camera arm! We'll work with you every step of the way to ensure you get the shots you thought were impossible.
A robotic camera arm rental gives you the precision and versatility that you need, no matter how big or small the shoot. If your shoot requires high speed, precise, repeatable movements, a robot camera arm can deliver on all fronts and more.
From our own use on video productions these robot arms are amazing machines able to bring to life any shot your director can dream up.
Programmable - High Speed - Ultra Precise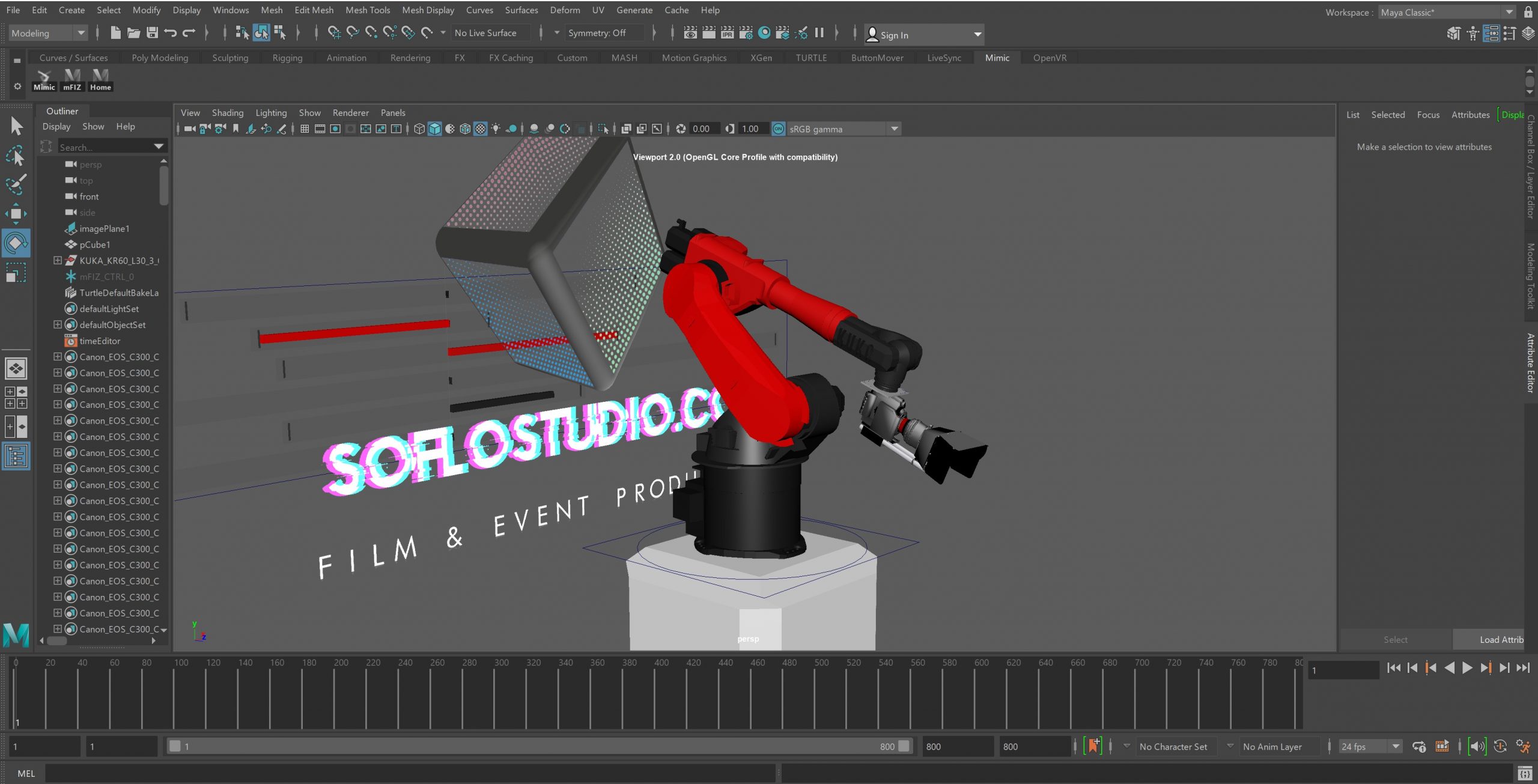 Our robotic camera arm uses Maya in order to accurately position the robot's camera arm in 3D space, allowing us great control and precision.
As an added bonus it makes the planning stages of any shoot much smoother by providing a 3D space to work in and plan from.
Motion Control Robotic Arm Rental
Using the software mentioned above along with external ques makes high speed synchronized movements a breeze, making the robotic camera arm rental in Fort Lauderdale a no-brainer if you're looking to bring your production value to the next level.
Thankfully the robot is portable and can be used just as easily on location as in studio.
Cinema Robot Rental in Miami
The robotic camera arm can allow you to amplify your camera crew's capabilities exponentially using camera equipment you already have.
From standing still to full speed motion, the robotic camera arm can go to and from the extremes faster than you can blink. The robotic arm is capable of accelerating to 4m/s, rotating 180 degrees on the horizontal and vertical axis all while keeping track of the subject seamlessly.
Adding a track to the robot allows for even greater flexibility.
The robotic camera arm rental comes with not only the equipment, but the expertise of our operators and programmers so that your project comes out looking exactly as your envisioned. A robotic camera arm rental could be what takes your production in Miami to the next level.
Robotic Camera Arm Rental Rates
Camerabot Shoot Day (12hr)
$2500
Camerabot Programming Prep Day (8hr)
$1500
Operator (12hr)
$1000
Operator Prep Day (8hr)
$600
Assistant (12hr)
$500
Assistant Prep Day (8hr)
$400
Shipping Round trip (up to 50m)
$500
Blackmagic URSA Mini Pro 12K
Included with all robot rentals
Robot integrated Red Rock Follow Focus
Included with all robot rentals
Mobile Workstation
Included with all robot rentals
2x Thinkpad Laptops
Included with all robot rentals
2x 4K Monitors
Included with all robot rentals
Track is not currently available. Arm reach is 16ft from side to side. Any additional equipment required on location ie fork lift not included
*Additional shoot day hours billed at $300 per hour
*Additional prep day hours billed at $225 per hour
Cinema Robot Specifications
| | |
| --- | --- |
| Camerabot Payload | 60lbs |
| Camerabot Reach | 8 feet from center - 16 feet linear from left to right |
| Camerabot Speed | 13 feet per second |
| Pose Repeatability | 0.06 millimeters |
| Weight | 3800lbs |
| Camera Mount | 1/4-20 & 3/8 Top, side and front mounting options |
| Power Requirements (Using Transformer Cart) | 208V 3PH 80A Cam Lock |
| Power Requirements (Without Transformer) | 480V 3PH 30A NEMA L16-30 Plug |
Please keep in mind the power requirements above, everything else can be easily worked around but that.
Blackmagic URSA Mini Pro 12K FPS Specs
| | |
| --- | --- |
| 4K Super 16 | 240FPS |
| 4K DCI, 16:9 and 6:5 Anamorphic | 120FPS |
| 8K DCI, 16:9 and 6:5 Anamorphic | 120FPS |
| 8K 2.4:1 and 4K 2.4:1 | 160 FPS |
| 12K 2.4:1 and 4K 2.4:1 | 75 FPS |