Robotic Camera Arm Rental in Miami
Bring your production to the next level with the unparalleled precision & versatility of a Cinebot BoltX robotic camera arm! We'll work with you every step of the way to ensure you get the shots you thought were impossible.
Contact Us
A robotic camera arm rental gives you the precision and versatility that you need, no matter how big or small the shoot. If it's high speed, precision and repeatable moves you need then explore our Bolt robots, which are the fastest cameras in the world today.  For the longest, steadiest reach the Titan & Titan X, and Milo are unsurpassed in the film industry.
On a location shoot inside a house or mansion, a fully assembled Talos on a track can lift the camera up to 3.4 metres and yet still duck through a standard doorway with room to spare. The adaptable Modula rig allows you to mix and match 15 components to build up to 9 different motion control rigs.
Rental Rates
Shoot Day : $4000+
Program/Prep Day: $2000+
Operator: $1000/day (10h)+
Assistant: $580/day (10h)+
Shipping Round trip (up to 100km) : $900+
Scout (required for on-location jobs): $300+
Call us today for a free consultation.
BOLT Robotic Camera
These robotic camera arms allow you to extend your camera crew's capabilities greatly using cameras you already have.
From a standstill to full high-speed motion and back to a complete stop in fractions of a second, the Bolt Cinebot captures the fastest action with absolute precision. Capable of horizontal and vertical movement speeds of up to 2 metres per second, and a 180-degrees of rotation in a 1 second, the Bolt can keep up with almost anything.
To add another dimension of movement for the Bolt, you can run the high speed camera robot on a track. Follow any object, person, or landscape to give much more flexibility in terms of visual creativity. Capable of speeds of up to 4.5 metres per second, execute any number of complex camera movements with pinpoint accuracy for new levels of dynamic high-speed tracking shots.
Renting one of these machines comes with not only the equipment, but the expertise of our operators and programmers so that your project comes out looking exactly as your envisioned. A robotic camera arm rental could be what takes your production in Miami to the next level.
Robotic Arm Highlights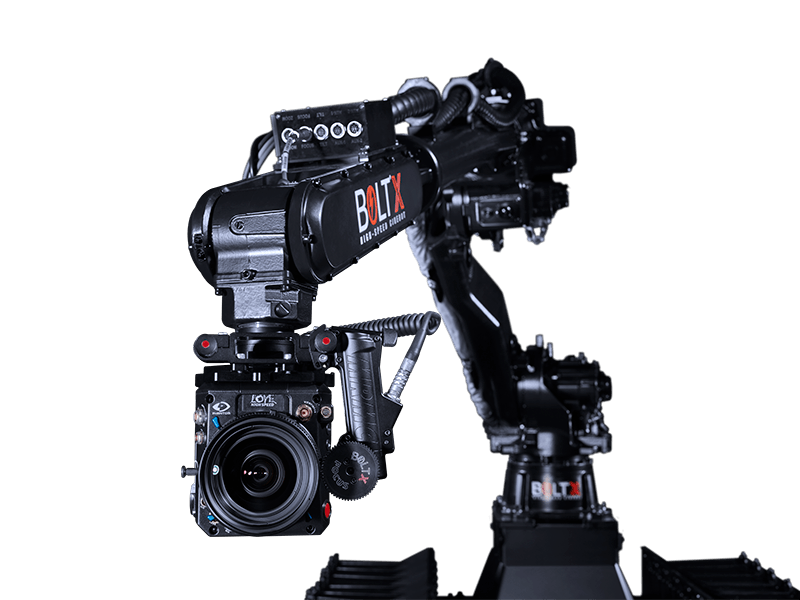 High-speed robotic arm
Camera payload up to 20kg
Track speed in excess of 3.5m/sec
Robotic Camera Arm reach 2m
Max Height 3.5m
Can be used as both camera rig or model mover
You can also put the Bolt High Speed Cinebot on track, so you can have another dimension of movement. This versatile robot gives the operator the ability to follow any object, person or landscape, giving much more flexibility to hers/his visual creativity. Furthermore, with Flair software you can program acceleration profiles to reach and maintain desired speeds in a very accurate way.
The track sections in which the Bolt is mounted must be fixed into a solid base because of the robot's harsh acceleration and deceleration. The power requirements of the robot are: 3x 400 volts, 32 amps, 50-60 Hz (generator: 3k VA -Bolt- 14K VA -Bolt on Track-)
Industry Standard Software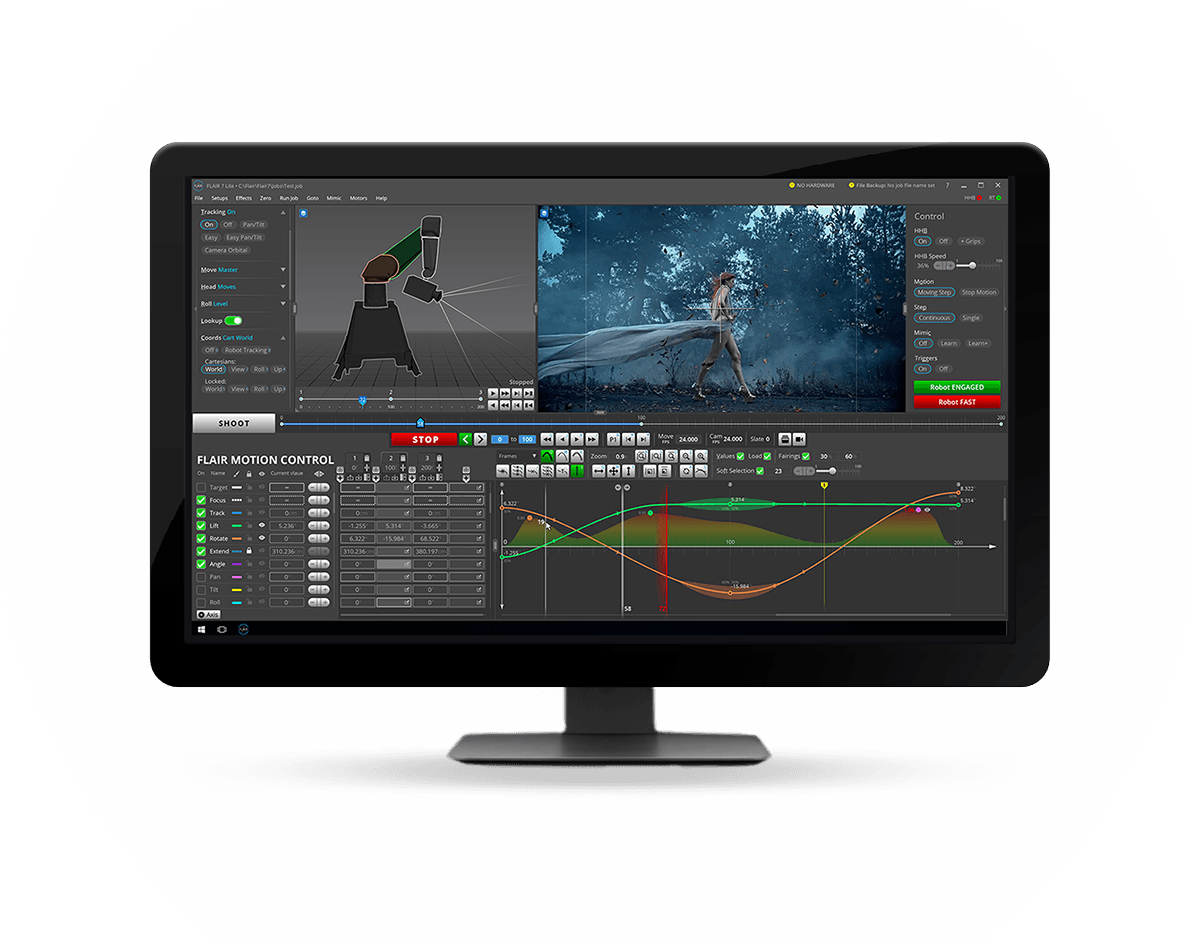 Flair is MRMC's premier motion control software. Designed to give exceptional command over camera movement, Flair precisely controls up to 500 axes of motion and interfaces seamlessly with CGI packages. Flair is the tool that makes your vision reality.
Our expert programmers will work with you every step of the way so that the camera arm gets exactly the shots you're looking for.
Motion Control Robotic Arm Rental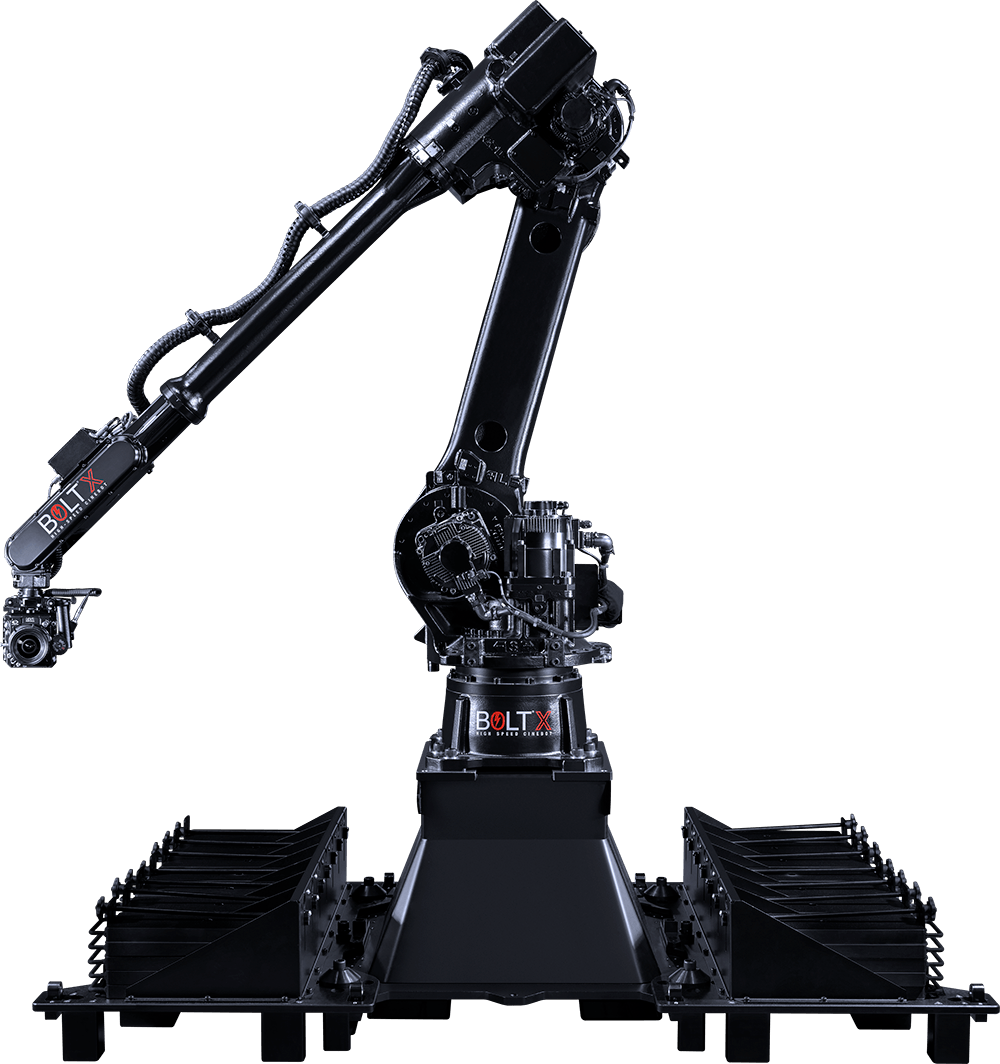 Synchronized motion with external triggers and model movers for extreme precision timing gives this robotic camera rental in Fort Lauderdale a new dimension of production quality.
Portable, lightweight robotic unit, designed to be set-up and ready for shooting in under an hour. Trigger from timecode. Control DMX Lighting. Create incredible timelapse with dynamic movement and feel.
Every camera move under complete control – precisely repeatable. Define location of your object in space, to simplify any complex move.
High speed, precise control of zoom, iris & lens. Fastest & most powerful motors in the world. Take moves planned in Maya and feed them into the Bolt – or interface to augmented or virtual reality in real-time.