Green Screen Studio in Miami
Affordable Green Screen Studio Rental in South Florida, Miami & Fort Lauderdale
Green Screen Cyclorama Studio Rental Miami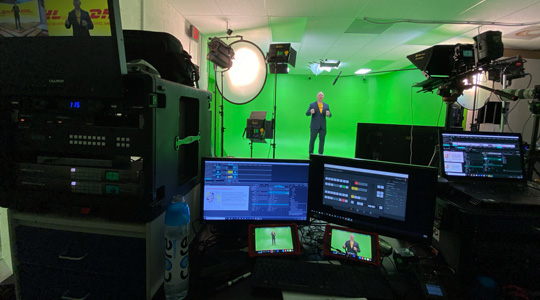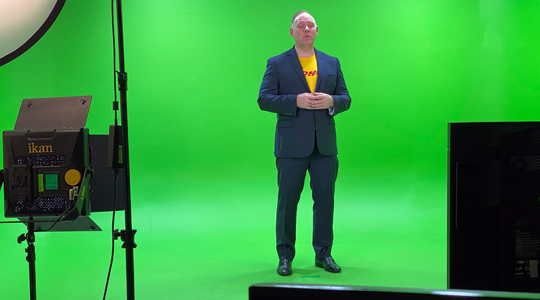 Soflo Studio's green screen rental is among one of the most affordable in South Florida with our standard rates starting at $500 for 5 hours. The green screen itself is U-shaped and has built-in dimmable LED overhead lighting, is 15 feet wide, 12 feet deep and has an 8 foot ceiling over it. In practical terms, our green screen cyc can comfortably fit up to 4 performers actively moving or 2 people and furniture.
After filming at the green screen location it's time for editing and effects. We provide all kinds of post-production services that you can benefit from using. When it comes to green screen video production, it's important to have the skill and experience that our staff has, to avoid the video coming off as cheesy or poor quality. For an additional cost, we can provide keying and stock footage to help you add the finishing touches to your video.
Our stock footage includes interesting backgrounds, such as a graffiti wall, a triangle tunnel, a car time lapse and a wide variety of virtual sets. You'll be able to look through our stock footage to choose the best options for your video or use your own footage. Whatever your vision is, we can help you make it come to life at our green screen studio near Fort Lauderdale and Miami.
If you need a green screen rental for any other reason, such as a skit or short film, we are here to help. Contact us today to discuss your unique project and how we can make your vision come to life. We love hearing about new ideas that we can assist with. Our green screen studio has been used for many different kinds of projects before, but we're always eager to help you create something new and unique. That's one of the best parts about using green screen video production, the possibilities truly are limitless!
Whether your green screen rental is a minor part of your video, or the main focus, you will find our green screen studio to be a suitable space. Shooting your video at our South Florida video production studio will go smoothly because our staff is professional and will provide you with everything you need. Our green screen room is only one of many resources we have in order to help filmmakers of all kinds bring their visions to life, but it is one that is very versatile.
Cyclorama For Rent in South Florida
Finding great cycloramas for rent in South Florida can be daunting. We've simplified the process and made cyclorama rental very affordable, regardless of the budget and scope of your production. Let us save you the hassle of hunting for cyc locations in Miami or Fort Lauderdale. Our high quality cyclorama studio has ample room for your production and offers the best opportunity to realize your vision and unleash your best ideas. Your cyc rental is just a few clicks away.
Full Service Green Screen Video Production
Soflo Studio provides full service Green Screen Video Production that will take your project
from Idea to Plan to Production and finally to Promotion.
Our service is unique in that you can choose to use any of our ready to film environments or we can build an entirely custom environment for you, depending on what works for your project's budget. We'll provide everything necessary to make whatever concept comes our way into a reality as affordably as possible.
Ready To Film Environments
Our Green Screen Video Production Work